As we learn more about taking care of the planet we live on, we try to find ways to create less trash and use things in a way that will not hurt the Earth. Recycling is a good way to do this.
It means taking things we don't need anymore and making them into something new instead of throwing them away. We can recycle lots of other things, like old bike frames.
Instead of keeping your used bike frames in your garage or throwing them in the trash, there are many ways you can reuse and recycle them.
This article will show you some fun and useful ways to give your old bike frame a new life and help protect the planet.
Ideas for repurposing bike frames
Here are some ideas for you:
Make A Trailer or Garden Borders
If the wheels of your old bike frame are still in good condition, you can attach them to a strong frame and create a new trailer or define your garden space with the bike wheels.
Turn It into Furniture
You can turn your old bike frame into unique furniture pieces, like a coffee table with a glass top, a clock by attaching a clock mechanism to the front wheel, or a mirror or pot rack.
Use The Handlebars as a Bike Rack
You can use the handlebars of your old bike frame as a bike rack or holder, by mounting them on the wall. This will save space and make it easy to store your bike.
Create a Gear Mobile or Wind Chimes
You can create a unique decoration for your home or garden by using the gears and chains from your old bike frame to make a gear mobile or wind chimes.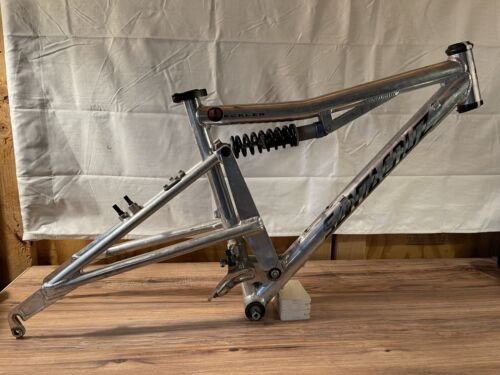 Upcycle It into Unique Items
You can use your old bike frame to create even more unique items, like an iPhone dock or bookshelf. All you need is some creativity and basic tools to make something cool and useful.
Steps to repurpose old bike frames
Now that you have some ideas for repurposing old bike frames, it's time to get started. Here are some steps to guide you through the process:
Disassembling the Bike Frame
How to disassemble a bike? In short,
Remove the wheels, pedals, and other removable parts using a wrench and pliers.
Loosen and remove bolts and screws.
Cleaning and Prepping the Bike Frame
Clean the bike frame with soap and water.
Sand any rough areas.
Wipe it down with a damp cloth to remove any remaining dirt or debris.
Tools and Materials Needed
The tools and materials you'll need depend on the project you choose.
For example, to make a coffee table, you'll need a glass top and adhesive.
To make a gear mobile, you'll need pliers, wire, and a hook.
Step-by-step instructions for each project
Look for step-by-step instructions online or come up with your own design.
Take your time and be careful when working with tools and materials.
Additional resources
For more repurposing ideas and inspiration, check out these resources:
"The Art of Upcycling" by C J Robb
This book offers 16 DIY projects that transform everyday objects into something new and beautiful.
"DIY Furniture" by Christopher Stuart
This book provides detailed instructions for building furniture from scratch, using repurposed materials such as old bike frames.
Online Tutorials and Communities
Instructables and DIY Network are two communities where you can find countless DIY tutorials and connect with other DIY enthusiasts to get ideas for your own projects.
Conclusion
Don't throw away those used bike frames for sale just yet! Repurposing them is a fun and creative hobby, and it's also an environmentally responsible way to reduce waste and give new life to something old.